Learn how our new MSP Hub will save you time
April 14, 2023 • Thomas Sydorowski
As cybersecurity becomes top priority for a growing number of small and medium sized (SMBs) businesses, the need for outsourced IT has steadily increased. Managed Service Providers (MSPs) and Managed Security Service Providers (MSSPs) are being asked to meet the rising demand for cybersecurity improvements.
LoginTC is here to help IT providers meet that demand with new expansions to our product exclusively for MSPs and MSSPs.
The LoginTC MSP Hub
The MSP Hub is the latest update to our intuitive and cost-effective multi-factor authentication (MFA) solution.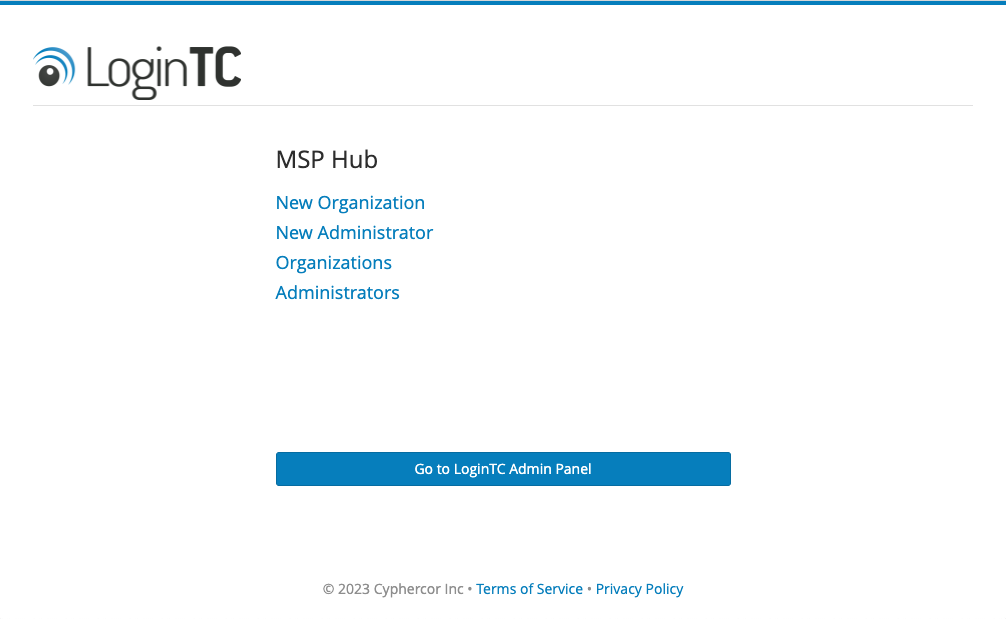 The MSP Hub allows MSP administrators to add new organizations and administrators more easily, and implement bulk changes to existing organizations and administrators all at once.
The MSP Hub can be accessed from the LoginTC Administrator Portal from the Organization drop-down menu.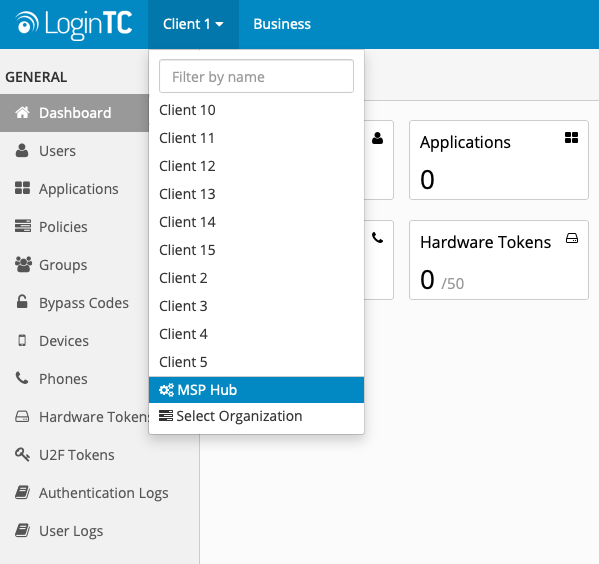 Benefits of the MSP Hub
There are many benefits to using the LoginTC MSP Hub for your clients' multi-factor authentication needs.
Scale swiftly: With the MSP Hub, you can scale your business faster than ever. With the ability to bulk add all of your existing administrators to new organizations, and add administrators to existing accounts as your team grows, you can grow without limit.
Meet compliance: Sometimes, employees leave and clients don't renew. When that happens, you no longer have to worry about whether you've deleted a user from all accounts, or removed a client's data fully. With the ability to view all organizations and see who has administrator rights in each, you can feel confident that you're meeting any data compliance requirements, and that no one has access to accounts they shouldn't.
Save time: The MSP Hub gives you a birds-eye view of your organizations and administrators, with the ability to make the finest of changes, all in a few clicks. Spend less time managing your accounts and more time getting new clients.
Let's take a closer look at what the MSP Hub can do.
Adding New Organizations
MSP administrators can now create a new organization and efficiently add existing and new administrators to it all from the same page.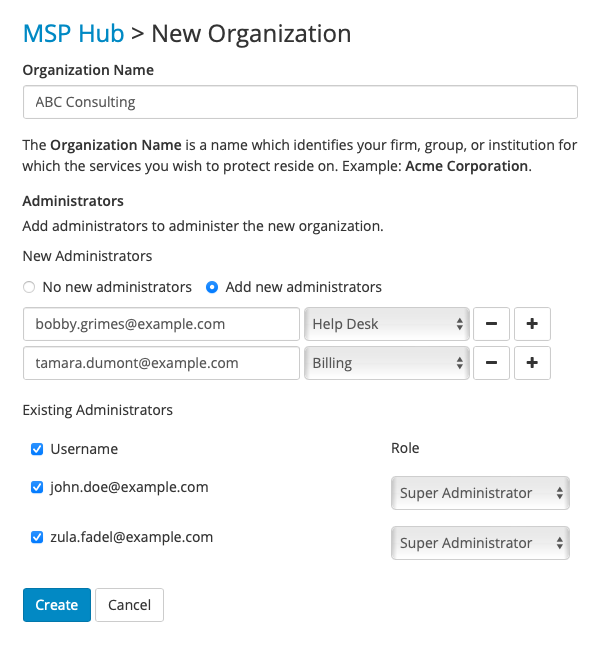 Simply give your new organization a name, select which existing administrators you want added to the organization, as well as any new people you want to add as administrators.
You can also decide the permission level for each of your administrators.
Adding New Administrators
With the MSP Hub, you can simply add new administrators to your account at any time.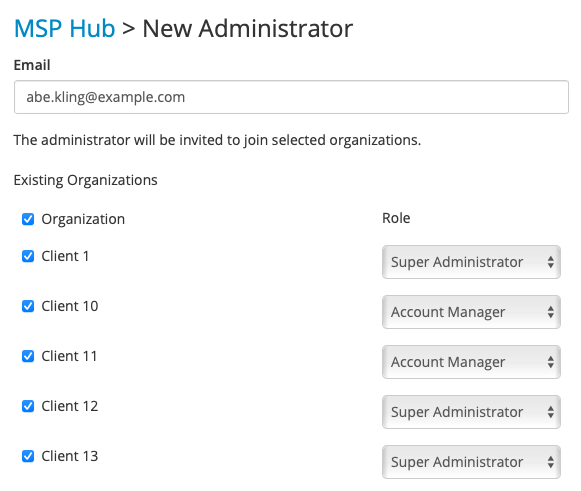 Input the email address of your new administrator and check off which existing organizations you want them added to. Finally, choose what their role will be in each organization.
Hit "Create" and an invitation will be sent to the email address provided.
Manage Organizations
The MSP Hub also allows you to view and manage your existing organizations.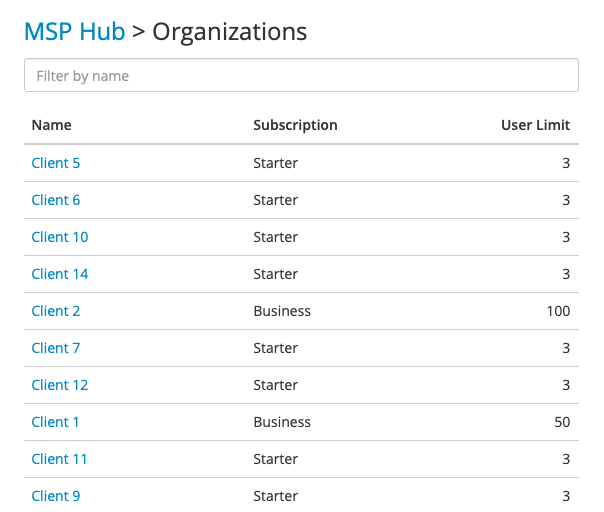 From there, you can bulk edit administrators in each organization. The MSP Hub gives you the option to change administrator roles or delete existing administrators, and invite new administrators to join.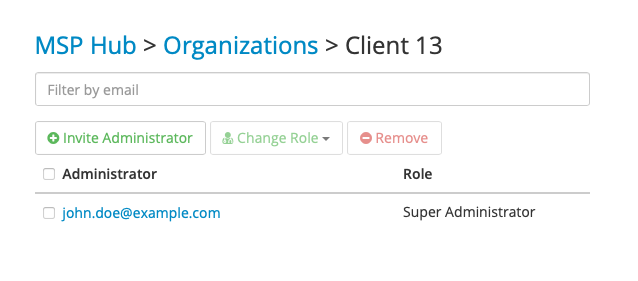 Manage Administrators
The MSP Hub also gives you the ability to view all your existing administrators and see what organizations they're in.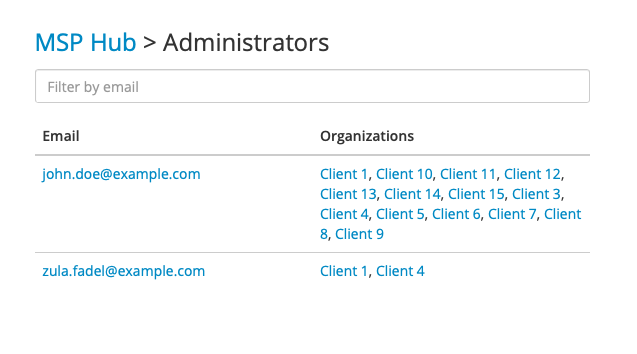 From there, you can click into each administrator and make bulk changes to their accounts. You can add and remove them from existing organizations, and change their role.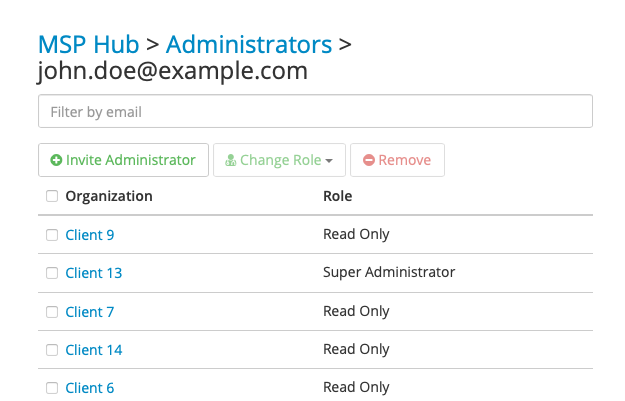 Get access to the MSP Hub today
If you're not already a LoginTC MSP partner, reach out today to get access to all our partnership benefits, and see the MSP Hub in action.