The new tool that's making 2 factor auth for VPNs easier
February 13, 2015 • Ilana Belfer
The LoginTC team is always hard at work coming up with new ways to deliver the best possible user experience to our customers — not only for end-users, but for our valued IT managers and administrators as well.
One of our favourite customer service mottos is: when you ask, we listen.
Canaccede Financial Group knows this first hand. Before signing up with LoginTC, they brought to our attention that in order for them to be 100% compliant with PCI (payment card industry) data security standards, we needed to enable encryption to key data (passwords, internal keys) to ensure a security audit could pass with flying colours. We had an updated beta version in their hands within a week, ultimately incorporated the changes into our product, and they've been satisfied LoginTC customers since August.
"Most companies don't just do that . . . it was fantastic," said Mark Vanpee, Canaccede's director of technology services. "That always impresses a client — when you go above and beyond and build a new feature just for us."
While chatting with Mark over the phone a couple of weeks ago, I asked if there was anything else he thought we could do at this point to make LoginTC better. His response? During the configuration process "what might be a little easier is instead of having to deal with configuration files . . . if there was a simple GUI [graphical user interface] or something that could make that happen for me."
Little did he know, we had done it again! We were about to release just that.
So, it was with great pleasure and excitement Monday that we officially launched the most recent fruit of our labour… a web-based admin interface for the LoginTC RADIUS Connector!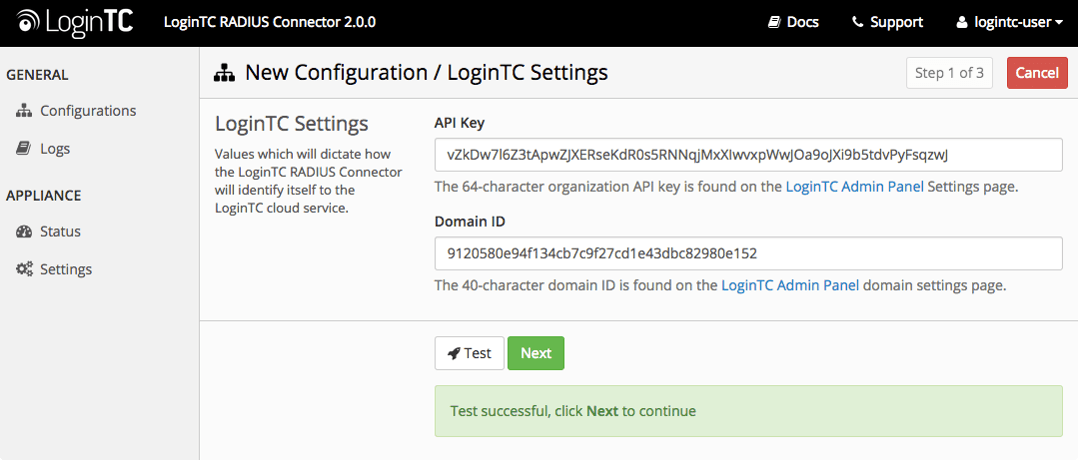 This innovation — which does away with cumbersome config files and the flatness of a text-based command-line interface — makes it simpler for IT administrators to configure LoginTC's revolutionary and unparalleled two-factor authentication solution on their Virtual Private Networks (VPNs), and saves them over an hour in the process, cutting the required time commitment by more than half.
Some highlights:
There's more information in this press release. Otherwise, you can click here for detailed instructions on how to set up your VPN with LoginTC two-factor authentication using the brand new LoginTC RADIUS Connector 2.0.0 release. Or, get started for free right away.
What else can we do so that LoginTC meets the needs of YOUR small-medium sized business, enterprise or organization? Sure, we think LoginTC is the best two-factor authentication solution out there, but that doesn't mean we can't constantly strive for improvement. As we say: when you ask, we listen.
Don't hesitate to contact us and let us know. You can reach me personally at ibelfer@cyphercor.com.