Why WatchGuard administrators use LoginTC two factor authentication to protect their networks?
June 29, 2015 • Hernan Matute
Organizations that have deployed the WatchGuard appliance to protect their networks for secure remote access trust its reliability and connectivity to corporate data and resources. WatchGuard's flexibility enables a remote connectivity deployment as simple or as sophisticated as the organization's business requirements dictate.
But what about the authentication requirement? Exposing corporate and sensitive data to access threats using password-only or legacy solutions is not an option. Adding stronger authentication to your WatchGuard deployment is a sound practice and LoginTC has you covered.
WatchGuard and LoginTC: Protection and Compliance
Quite simply, installing, configuring and integrating LoginTC to your WatchGuard appliance is fully enhanced by:
Mandatory testing and validation at every stage of the integration process.
Optional "Passthrough" to configure which users or AD groups can be challenged with LoginTC, a flexible process to roll out your LoginTC deployment.
Encryption of internal passwords and LoginTC parameters for PCI compliance or as a general best practice.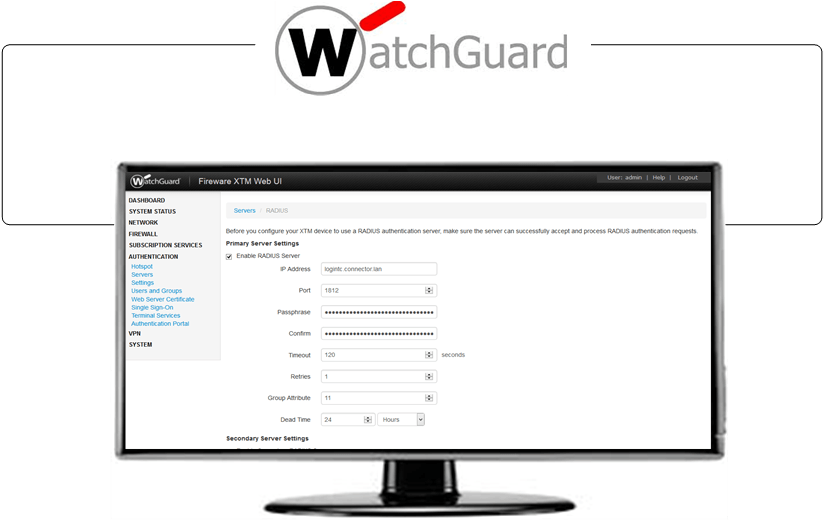 Registration and Provisioning
Some of our clients have installed and configured their WatchGuard appliance with the LoginTC RADIUS Connector in less than one hour. Provisioning their end-users is also a seamless exercise:
Manual
Self-registration
Bulk Upload (.csv)
Sync with LDAP/AD directory
REST API
For those administrators with development skills or access to a development team, the LoginTC REST API allows a programmatic integration with their existing workflows.
Proof of Concept
Some WatchGuard administrators have carried out a Proof of Concept (PoC) before committing to LoginTC. LoginTC lends itself well to this because the LoginTC Starter Package is free for up to 10 users. The Starter Package has full-fledged functionality minus the added benefit of bonus features. This means the WatchGuard administrator and their end-users can fully experience exactly how LoginTC will work in the specific context of their company before purchasing it.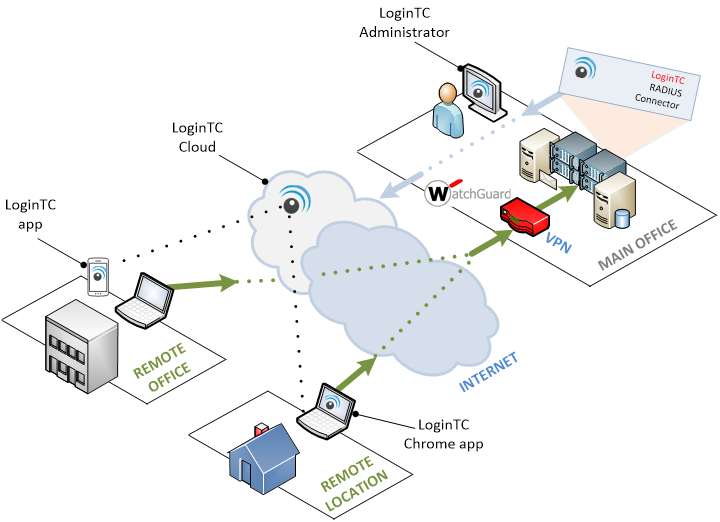 Overall, LoginTC leverages all your IT investments and those of your end-users. Whether you need to enable WatchGuard with SSL or IPSec, the LoginTC documentation provides you step by step instructions on how to configure the protocols that you need to comply within your organization.
To make it easier to your end-users, you can leverage the mobile apps or the Chrome app credential manager, downloadable from all major mobile marketplaces (App Store, Google Play and BlackBerry World) and the Chrome Web Store. Your users can access your WatchGuard network locally, nationally or from anywhere they have access to an internet connection. It's that simple.
To learn more about implementing LoginTC 2FA with your WatchGuard appliance, click here.
To stop reading about LoginTC and experience it for yourself, get started in minutes.