Administrator Roles
Overview
Organizations typically have different individuals in charge of specific tasks when it comes to technology development, operations and end-user support. LoginTC Admin Panel administrators have roles which allow organizations to ensure the right level of privilege is assigned to the right account.
Professional, Business or Enterprise subscription required
See the Pricing page for more information about subscription options.
Administrator Roles
The following lists the possible roles:
Super Administrator: The Super Administrator role has full access to all actions and settings in the LoginTC Admin Panel.
Account Manager: The Account Manager role has access to create, delete, and update Users; create and delete tokens; and create and delete bypass codes.
Help Desk: The Help Desk role has access to update Users; create and delete tokens; and create and delete bypass codes.
Billing: The Billing role has access to view and modify billing information
Read Only: The Read Only role has access to view User and token information
Adding Administrators
To add a new administrator and assign a role simply click on the Administrators tab in the left hand menu and then click the Add button in the top right. Enter the email address of the new administrators and select which role to assign.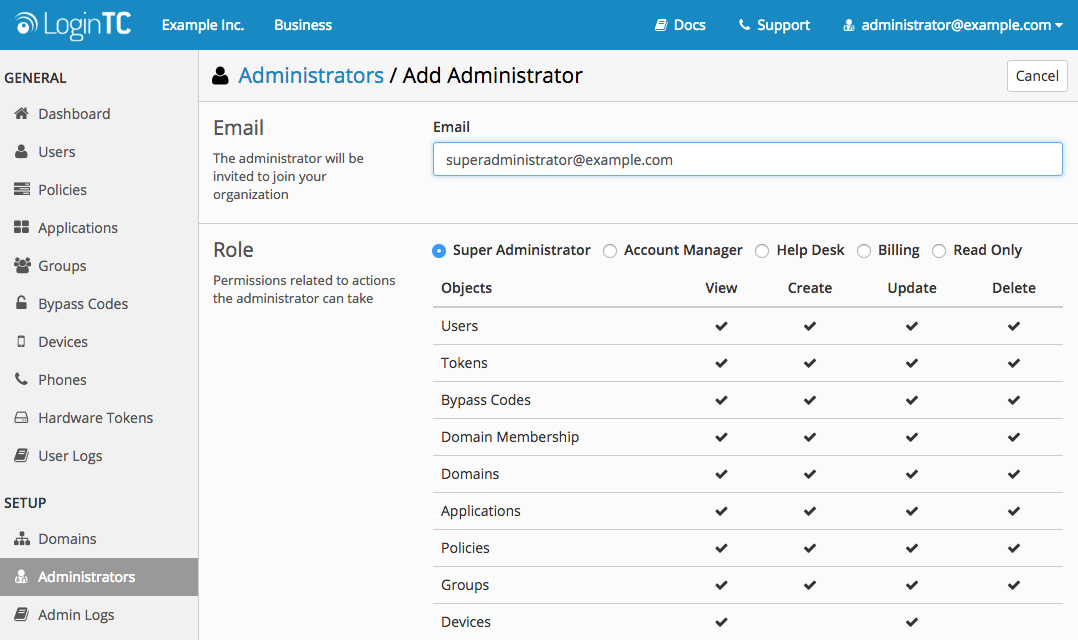 For the Help Desk role there is an additional option for Group Restrictions. This option will restrict the users the Help Desk administrator is permitted to perform actions against to only those part of one of the groups selected.

Click Add to add the new administrator.

Note
The role can be changed at any time.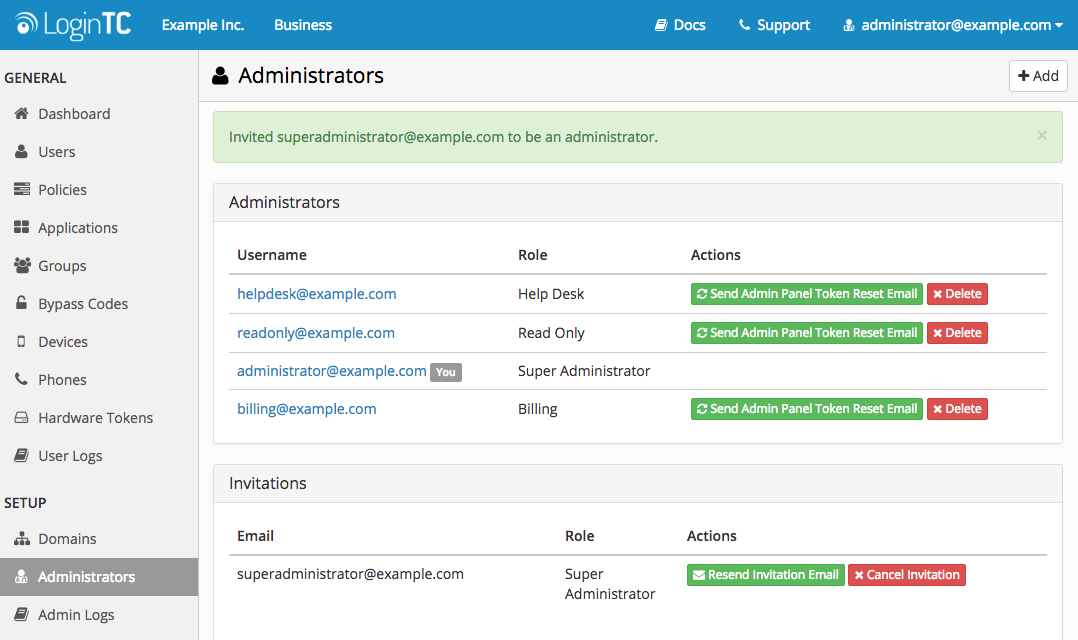 An email inviting the administrator to the LoginTC organization will be sent. They will need to log in to accept the invitation.
Click on the administrators email from the Administrator tab and then the Settings to edit or delete the administrator.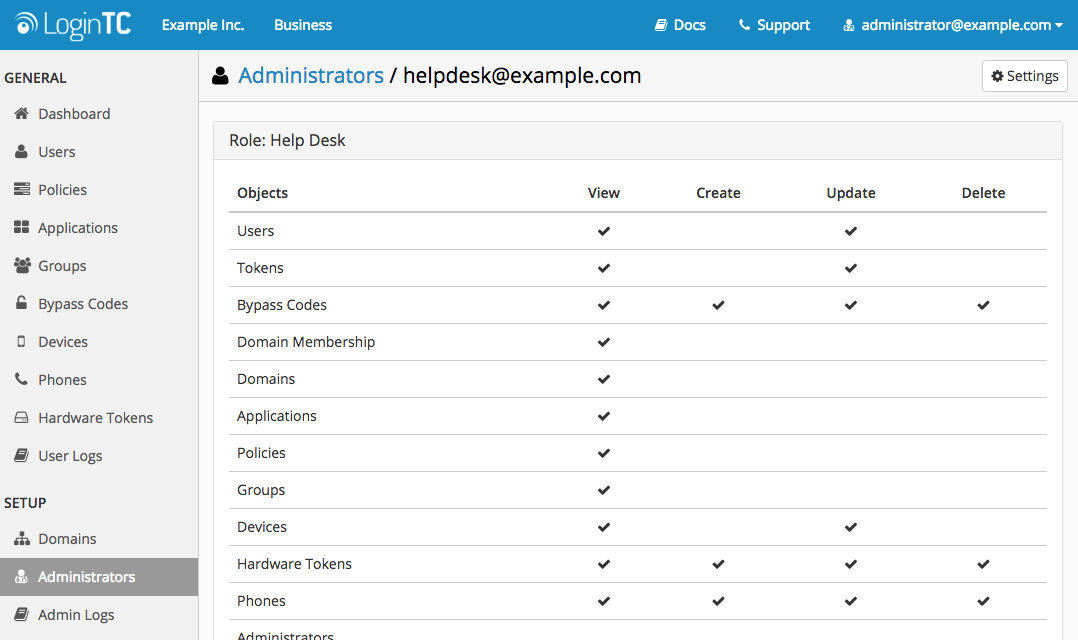 The role can be changed at any time. The email cannot be changed. In order to change an administrators email simply delete the existing administrator and create a new one.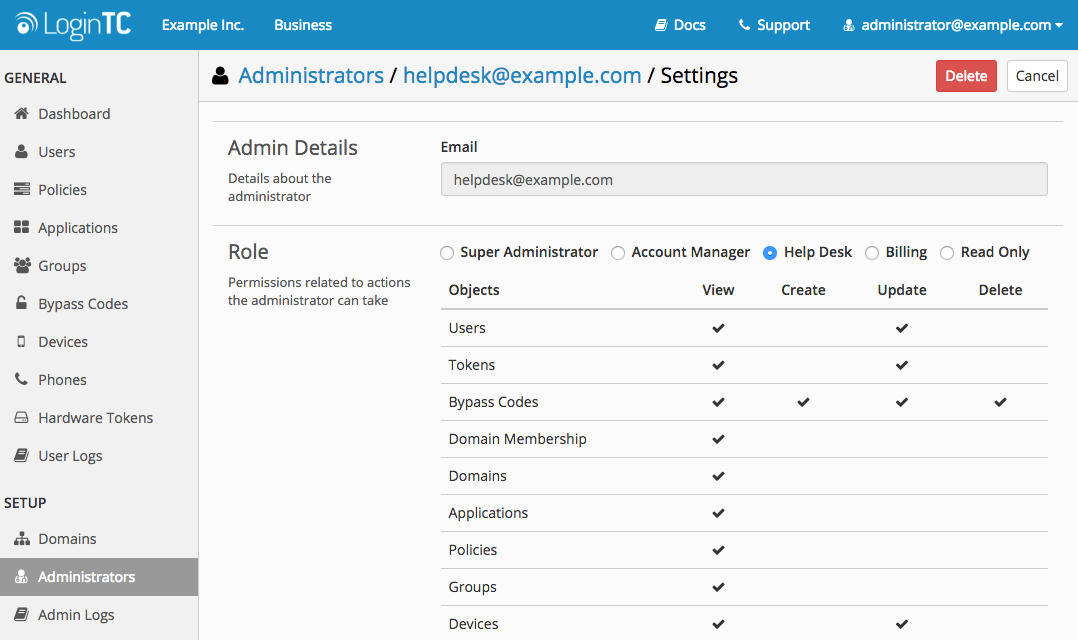 Scroll down and click Update to finalize the change. You cannot modify your own role.
Troubleshooting
Need help? Please see our Help Page, Knowledge Base or contact us directly at support@cyphercor.com.