LoginTC BlackBerry 10 App Guide (End of Life)
Important: LoginTC BlackBerry 10 App End-of-life
BlackBerry has announced that starting by the end of 2019, BB10 apps will no longer be supported. We recommend to migrate your LoginTC tokens to the LoginTC iOS or LoginTC Android App. You will need to ask your administrator to re-issue you your LoginTC tokens.
This guide covers the installation and usage of the LoginTC app for BlackBerry 10 mobile devices. The LoginTC mobile application for BlackBerry 10 devices acts as a credential to the LoginTC platform. It uses BlackBerry 10's secure Push Notification Service to notify you of LoginTC requests.
BlackBerry 10 device
BlackBerry OS 10
A working Internet connection (e.g. Wi-Fi, 3G, 4G)
Open BlackBerry World app from your applications
Search for LoginTC
Press the Install button
Note: Accept Access
When you download and install LoginTC, you must accept Device Identifying Information access for LoginTC to work.
Adding a token to the LoginTC app enables you to use your mobile device as a credential to log into LoginTC-enabled services. The LoginTC app can hold one or more tokens – one for each LoginTC-enabled service.
Open the LoginTC app
Press the Add Token button
Enter the 10-character alphanumeric activation code provided to you by your administrator
Press Next
Choose a 4-digit PIN. You will enter this PIN to approve LoginTC requests. You may choose a different PIN for each LoginTC-enabled service.
Confirm the 4-digit PIN by entering it in again
Your token is loaded and you may now log in using LoginTC
Tokens are generally revoked on the server-side by your administrator, but you may also revoke the token directly from your mobile device. Follow these instructions to revoke your token:
Open the LoginTC app
Press your token in the token list
Press the Revoke Token button at the bottom
press the Revoke Token button in the dialog twice to confirm
You will receive a push notification to your mobile device when you attempt to log into a LoginTC-enabled service. Tap on the notification to open it and view the LoginTC Request.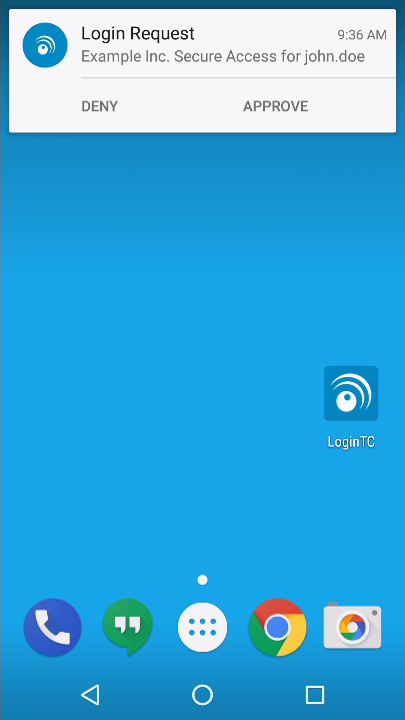 When you receive and open a LoginTC Request, you will be presented with information about the request to help you decide if it's legitimate or not and two buttons: Approve and Deny. Press one of the buttons to approve or deny the request.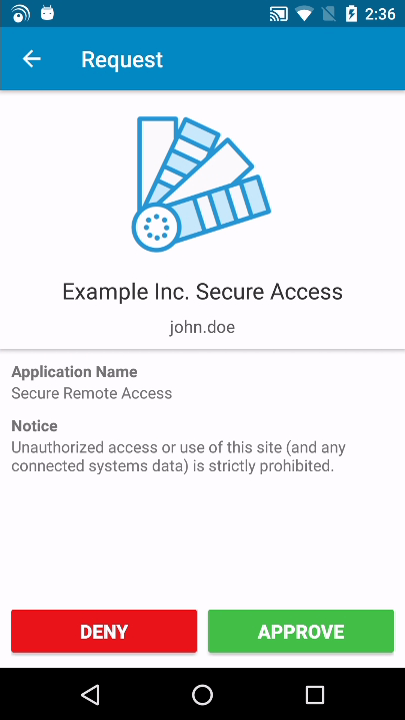 Press the Approve button and enter your 4-digit PIN to approve.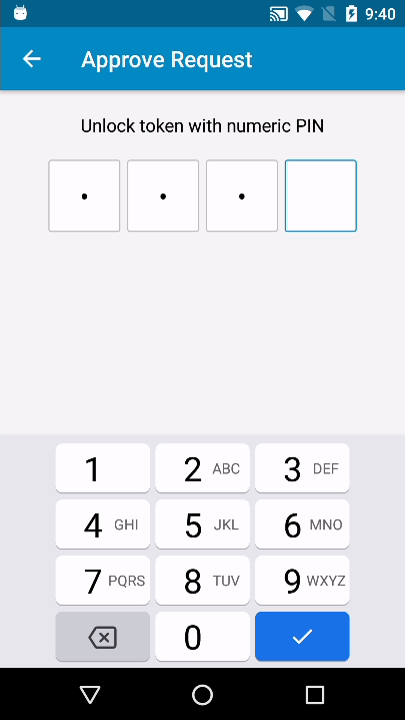 You can also deny the request if you did not initiate it. Select a reason for the denial: